"Walk Through the SunFlower Garden"
Sunflower Angel Watercolor Painting, 2005
Size: 16 x 20 on coldpressed watercolor paper

Return: To Gallery Thumbnails View


Previous: "Spring Equinox"
Original for Sale:
Price: $445 USD (plus shipping)
See below for information on purchasing the original.
Prints for Sale (11x14): $11.95USD USD
Other items are also for sale at:
Next: "Summer Daisies"
"Walk Through the SunFlower Garden"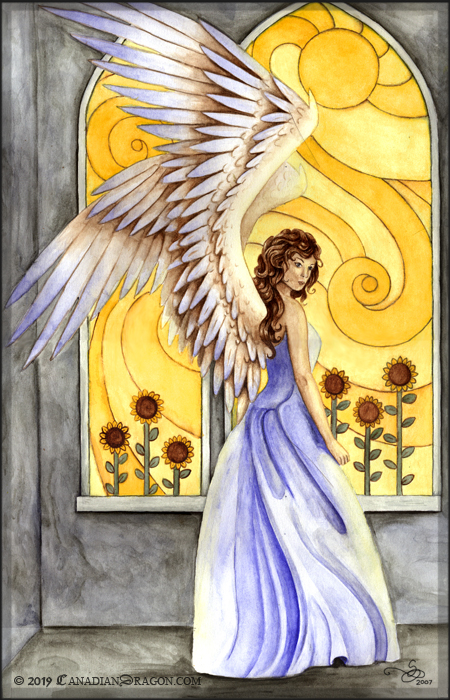 "Walk Through the SunFlower Garden," SunFlower Angel, Watercolor Painting, 2005

Details:

An elegant and almost questioning angel stops to enjoy the warmth of the sun through beautiful stained glass windows. Perhaps she is wondering if she can step into the Sun Flower garden herself, to feel the sun directly on her skin.
The actual painting has a third window on the right that I was unable to fit in the scan. It is the same size as the smaller window on the left.
I try to keep the scans and photos on this page as close to the actual colors in the original pieces as possible, but some variation may occur depending on your monitor. All original artwork is sold on an as-is basis, and I do not accept returns or issue refunds.
Please do not use this image without my permission! I would also ask that you do not use this on your website as a logo. I do allow some website and personal use of these images as long as my copyright is not removed. Please see my
Frequently Asked Questions Page
or
Copyrights Page
for Terms of Use.
For information on payment methods, shipping, insurance, and orders outside of North America, please read my
Purchasing Information Page
.
If you are interested in purchasing this painting, please email me at:
canadiandragon@hotmail.com
Return to Watercolor Gallery Thumbnails View